YOUR INSTRUCTOR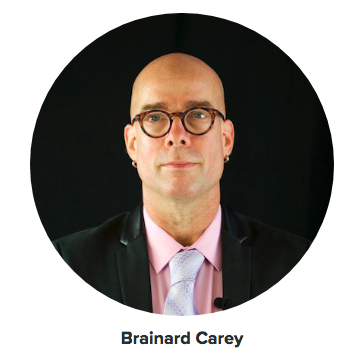 Brainard Carey has written five books for artists in between other books. His most famous best sellers are: Making it in the Art World, New Markets for Artists, and The Art World Demystified. His most recent books are Fund Your Dreams like a Creative Genius and Sell Online like a Creative Genius as well as the forthcoming Succeed with Social Media like a Creative Genius.
He enjoys being an educator as well as a successful artist.

Carey grey up in New York City, and after going to SUNY Purchase for his BFA, the world became his masters degree and his love and passion developed for teaching other artists like himself the steps on how to navigate the mysterious art world, which inspired him to write more than five best sellers. Those books he wrote became his Phd.
Brainard believes in action. After college he opened a gallery and began publishing a print magazine as well. He ran both businesses for a decade. After 10 years of experience and in-depth learning of the business of selling art, he moved back to Manhattan and opened up his storefront studio on 10th Street. He started meeting many people in the industry which encouraged him to focus on his art full time.
When he got into his first major shows, The Whitney Biennial and The Greater New York show at PS1, he began to consult and help artists. He has always felt that it is important to help other artists and the best way to do so is to reveal your knowledge to fellow artists. Carey believes the more exhibiting artists there are in the world, the better the place we will all live in will be.
"Without successful artists on the planet we will all be missing so much beauty in so many different forms" Carey says. His goal is to be able to offer as much help as possible to artists to navigate the rocky waters of the art world so that the art can have its day and be shared.
Carey also interviews major and minor figures from all over the art world for his Yale University radio program, The Lives of the Artists. To date he has interviewed over 1000 artists, writers and curators and draws on those interviews for his courses designed to benefit artists careers.
Currently, he continues to co-direct Praxis Center with his wife Delia Carey as well as working professionally as a collaborative art making team that creates installations and interactive performances.